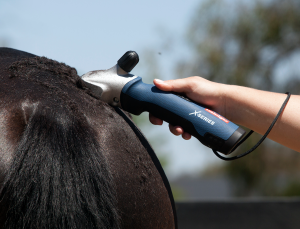 Jobs To Do – Clipper Maintenance
Look after your clippers after each use and also have them serviced, and the blades sharpened by a specialist, so you are ready to tackle those winter woolies. Did you clean your clippers after you last used them? No? Well, now is the time to check and make sure they are clean and lubricated and ready for your next use.
So you have bought yourself a good pair of clippers, so why not look after them? Your clippers are an investment that assists in caring and maintaining your horse's comfort. It is like that old saying … prevention is better than cure.
There are two ways of caring for your clippers 1) Cleaning and caring after each use 2) Having them serviced and sharpened at the manufacturer.
Taking a few minutes after each use will prolong the life of your clippers and remove that frustration of discovering blunt and dirty blades when you next go to use them.
SELF MAINTENANCE
What can you do to care for your clippers?
• Ensure the head of your clippers are well lubricated with a good grade oil and this will reduce premature part wear and overheating of your clipper head.
• After each clipping, remove all oil from the machine by rubbing it down with a dry cloth and carefully clean the head and blades with a dry brush.
• Clean the air filter regularly with a dry brush – this is essential.
• Clean your clipper head and vents after each use as the hair can build up and then causes damage to the clipper operation.
DON'TS
• Do not use kerosene or other liquids may cause the parts to wear prematurely
• Do not use compressed air to clean any area of the machine.
MANUFACTURER MAINTENANCE
Why do I need to do this? Isn't cleaning myself sufficient?
Having your clippers serviced and maintained will ensure a trouble free clipping of your horses, and you will also extended life of your clipper and blades.
• Always use correctly sharpened blades that have been sharpened on a specific clipper blade sharpener.
• Regular servicing of your clippers to replace worn parts will ensure correct operation in every instance
Heiniger's comprehensive Clipper Servicing and Blade sharpening service is carried out by fully trained, qualified technicians, ensuring that you receive the correct repairs and service.
ACT NOW! – BEFORE THE CLIPPING SEASON STARTS
https://www.facebook.com/heiniger.au.nz