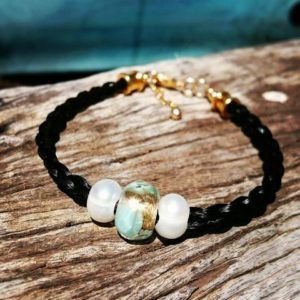 Living Horse Tails are giving BHM readers a 20% discount on all orders over $30 so just enter this code BHM20MUM18.  As an extra incentive, all purchases before the 10th May 2018 will go into the draw to WIN a handmade horsehair Bracelet for yourself.

Horse Hair Jewellery – A keepsake to treasure.
To have a piece of jewellery made from the mane or tail from your beloved horse is a happy piece to treasure. Especially with that horse that you have bonded with and have that special connection
How hard would it be to make yourself?  If you have more than one horse, you could be really creative and have two or three horses hair in one bracelet. We have three horses, so thought this would be a no-brainer.  Cut the hair, sorted it out and thought I would just do a plait and then address later on how to put clasps on etc.   Well, I didn't have to worry about the clasps. Do you think I could get one braid done!  Not as easy as it looks and I have had a few friends try, and all failed.  Every so often I get the hair out and try again, but sadly I haven't been able to make a single thing.  I think it is a bit like photography – everyone can take a photo, but not all are good.
Whenever I see horse hair bracelets online, I always admire them, and I recently came across Living Horse Tails and once again looked at this beautifully created range of jewellery from bracelets, bookmarks, earring, keyrings, necklaces and pendants and decided I needed one!
With Mother's Day being the second Sunday in May, now is the time to consider getting something made either for a mother who loves horses or yourself or even purchase a pre-made horsehair product.
For those who have their own horse and want a special item made you will need to:
Give the tail a good brush, so it is free from knots, grass and manure.
Cut the hair but be sure not to leave that tell all sign that you have taken a sample.  Best to take from underneath the tail, from different spots and snip close to the top to ensure you have a good length.
The amount –this depends on what you are making a bracelet (40cm), a Pendant (20cm), a necklace (60-70cm), a key ring (20-30cm), a bookmark (10-15cm) – all these lengths are the minimum you will need.
Make sure you have a rubber band wrapped around the cut end and then put in a plastic bag to keep dry. Remember to cut some holes in the bag, to prevent mould and other spore growth.
You can then post this off to Living Horse Tails to make your beautiful piece, or if you are making something yourself, you will need to wash the hair with shampoo. If it is very dirty or dry, you may need to wash two or three times and use conditioner.
Sorting the hair can take a lot of time to make sure the very best strands are used and that all are of similar length.  I see many use a marudai (a round stand) that is designed to help the braiders sort out the individual strands.
There are many different methods of braiding, like interweaving ribbons, leather and beads so it just a matter of looking and finding that design that is unique to you.
To inspire you –  look at Living Horse Tails, you may just find something to suits you.
 https://www.livinghorsetails.com/