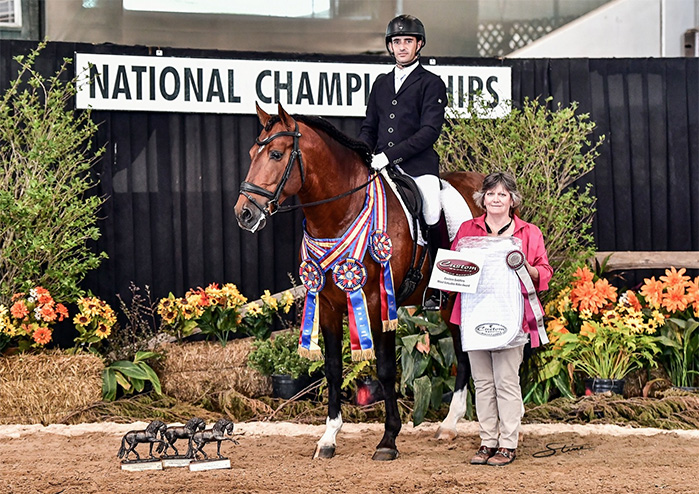 Most Valuable Rider at IALHA Nationals
Antonio Garcia Roldan Named Custom Saddlery 
Most Valuable Rider at IALHA Nationals
New Braunfels, TX (November 1, 2017)— Most competitors agreed that the 2017 International Andalusian and Lusitano National Championship Horse Show was a highly competitive event. Held this year at the Great Southwestern Equestrian Center in New Braunfels, Texas, the competition featured Andalusian horses competing in a number of disciplines for National Titles. Custom Saddlery, a company known for perfectly fitting saddles to any horse, was once again on the hunt for an exhibitor deserving of their Most Valuable Rider (MVR) Award. The company found their winner in trainer Antonio Garcia Roldan after several impressive rides in the Dressage arena.
Roldan, of Houston, Texas, has been showing and competing for more than twenty years. At this year's Nationals, he showed the six-year-old stallion Ribera V, owned by Waller Farms, as well as five-year-old stallion Sardinero V, owned by Dehesa de Cabeza Rubia, in a number of Dressage and in-hand classes.
Under Roldan, the two stallions both had amazing shows, winning several National Champion and Reserve Champion titles. In the National​ ​Championship​ ​USEF​ ​Training​ ​Level​ ​Test​ ​3​​ ​Open class, Roldan was first and second with Ribera V and Sardinero V respectively. Shortly thereafter, Roldan rode Ribera V to the Championship in the National​ ​Championship​ ​USEF​ ​First​ ​Level​ Test ​3 Open class with a score of 234! After that class, Custom Saddlery knew they had found their Most Valuable Rider, and they presented Roldan with the award. 
Roldan's success at Nationals didn't end there as he went on to earn several more Champion and Reserve Championships in the in-hand classes. Ribera V was National Champion in the National​ ​Championship​ ​USDF​ ​Mature​ ​Horse​ ​-Dressage​ ​SH​ ​Breeding​ ​in​ ​Hand and Sardinero V won the National​ ​Grand​ ​Championship​ ​AL​ ​Senior​ ​Stallions​ ​5​ ​Years​ ​&​ ​Over class. The stallions were also second and fourth in the Champion​ ​and​ ​Reserve​ ​Stallion class. Roldan was very pleased with the horses and his team. 
Custom Saddlery was proud to recognize Roldan's success at Nationals with the MVR Award. The company is pleased to shine the spotlight on riders at various competitions who contribute to the overall excellence of the show, and Roldan certainly did that at the IALHA Nationals! "I was so happy and so grateful," said Roldan. "It was a really nice end to the year!" 
With the award, Roldan received a ribbon and an embroidered Custom Saddlery saddle pad, as well as a gift certificate of $150 toward any Custom Saddle, which Roldan says he will be using in the near future! "I saw some of the riders with Custom Saddles, and I would like to try them," he said.
 Custom Saddlery specializes in creating perfectly fitting saddles for any horse.  The company proudly supports riders such as Roldan at competitions across the country with the MVR Award. For more information about this premier manufacturer of world-class Dressage saddles and the presenter of the Most Valuable Rider Award, visit www.mysaddle.com or call 1-800-235-3865.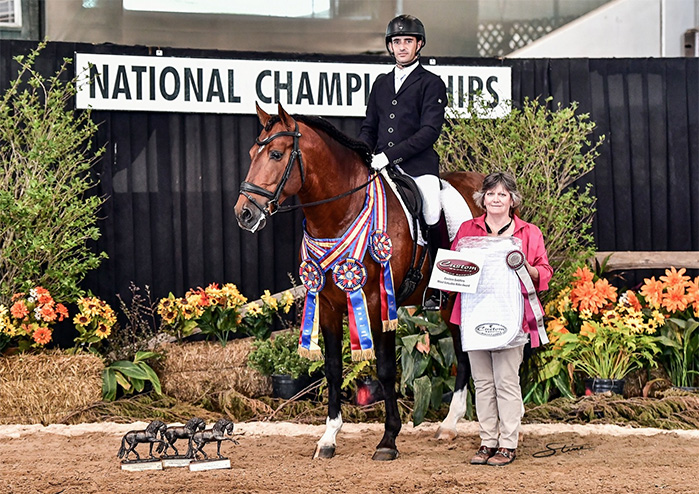 Photo: Trainer Antonio Garcia Roldan won the Custom Saddlery MVR Award at the 2017 International Andalusian and Lusitano National Championship Horse Show (Photo courtesy Don Stine Equine Sports Photography)