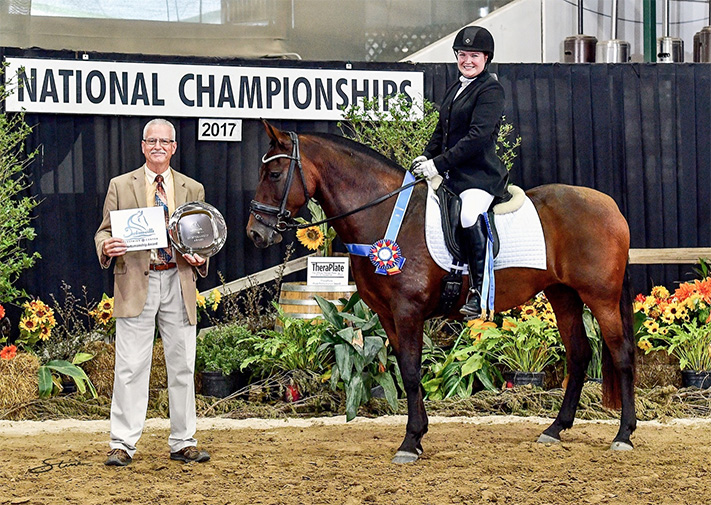 IALHA Championship Horse Show
Jacksonville Equestrian Center Rewards Sportsmanship 
at 
International
 Andalusian and Lusitano National Championship Horse Show
New Braunfels, TX (November 2, 2017)—The International Andalusian and Lusitano National Championship Horse Show, held this year in New Braunfels, Texas, was quite a competition. Exhibitors and their horses showed in a number of disciplines, from Dressage and halter to hunt seat and driving, all competing for National Championship titles. Although the spirit of competition was high, it couldn't diminish the sense of community and support among the IALHA exhibitors. One such exhibitor was Jessica Daniel, whose excellent sportsmanship was recognized with the Jacksonville Equestrian Center Sportsmanship Award. The Jacksonville Equestrian Center presents the Sportsmanship Award to exhibitors across the country like Daniel whose sportsmanship is apparent to all who watch them compete.
Daniel, of Tomball, Texas, showed her seven-year-old Andalusian mare Gitana RDL at Nationals. She has owned Gitana for three years. "She is the smartest, sweetest horse I have ever met in my life," Daniel commented of the mare. Daniel has done most of the training on Gitana herself, and this was her first National Championship show. "It was my first time there, so I didn't expect to win anything at all," said Daniel. But despite it being their first time, the pair wrapped up the show with several Top Five awards as well as a Reserve Championship in Training Level Dressage.
Daniel credits her success to a supportive boarding stable at home, a helpful trainer, and a great community of people that show on the IALHA circuit. "When you get into the Andalusian world, you're joining a family," she said. "They help you out so much. They don't treat you like competition, they treat you like you're part of the family. We're all in this together and we all do what's best for the breed."
Daniel's positive attitude was hard to miss as she competed throughout the week. "I had a huge grin on my face every time we went into the arena to show," she said. "It didn't really matter to me if we won anything, I was just happy to be there. The judges said they really appreciated my enthusiasm and that they were really impressed that I was always in a good mood, no matter what the outcome of the class was." The Jacksonville Equestrian Center commended Daniel's great attitude, and they were proud to present her with the Sportsmanship Award. Daniel received a tri-colored ribbon, prize basket, and a cooler with the award 
After such a successful show, Daniel said that the Sportsmanship Award felt like her biggest accomplishment. "The sportsmanship award meant the absolute most to me. To win the sportsmanship award really made me feel like I had accomplished something special," she said. "It means I'm enjoying myself and my horse and I'm having a good time, and that I appreciate all that the Andalusian world has done for me."
The Jacksonville Equestrian Center, located in Jacksonville, Florida, was excited to find such a deserving recipient for their Sportsmanship Award. As a facility that hosts many equestrian competitions, the JEC knows that good sportsmanship adds to the overall success of any event. For more information on the Jacksonville Equestrian Center, visit www.jaxequestriancenter.com or call 904-255-4215.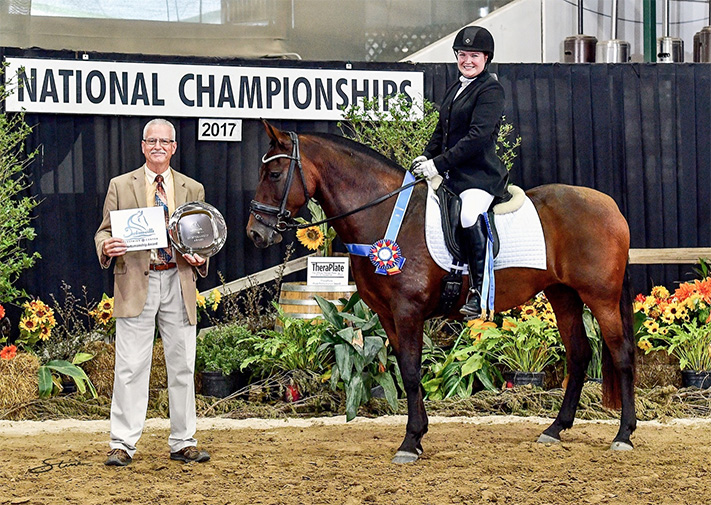 Photo: Jessica Daniel won the Jacksonville Equestrian Center Sportsmanship Award at the 2017 International Andalusian and Lusitano National Championship Horse Show (Photo credit: Don Stine Photography LLC)