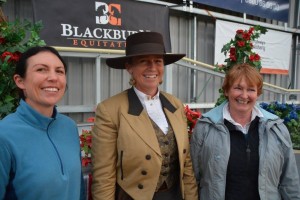 NZ Working Equitation Championships
On Sunday 24th May, the first New Zealand Working Equitation Championship was held in Christchurch, New Zealand. The event was organised by Sarah Blackburn and was sponsored by Blackburn Equitation. Leading New Zealand Grand Prix Dressage rider and Lusitano breeder, Jody Hartstone, traveled from the North Island to judge at the event. Entries were received from throughout the country, however local riders triumphed in both classes. The Introductory Championship was won by Alison Sutton and the Preliminary Championship went to Mimi Atkinson.
Originating in Europe, Working Equitation promotes the traditional equitation techniques developed in countries that use horses to work on farms. The aim is to preserve and perpetuate not only this type of equitation but also the cultural traditions of each country and their horses. New Zealand has a rich tradition of using horses to work stock on large stations and this horsemanship heritage will naturally influence the future of Working Equitation in New Zealand.
The discipline of Working Equitation is just beginning to take off in New Zealand and so far it is creating quite a stir. Many people are attracted to the sport as horses and riders from all disciplines – English, Western, Stock Horse and so on can all compete together. Such diversity creates interesting viewing for spectators and an exciting atmosphere. As Jody Hartstone said following the Championship on Sunday, "this sport is getting very big world wide and although here in little old NZ we are making our first footsteps – the future looks bright!"
To view more photos go to Working Equitation's Fb Page