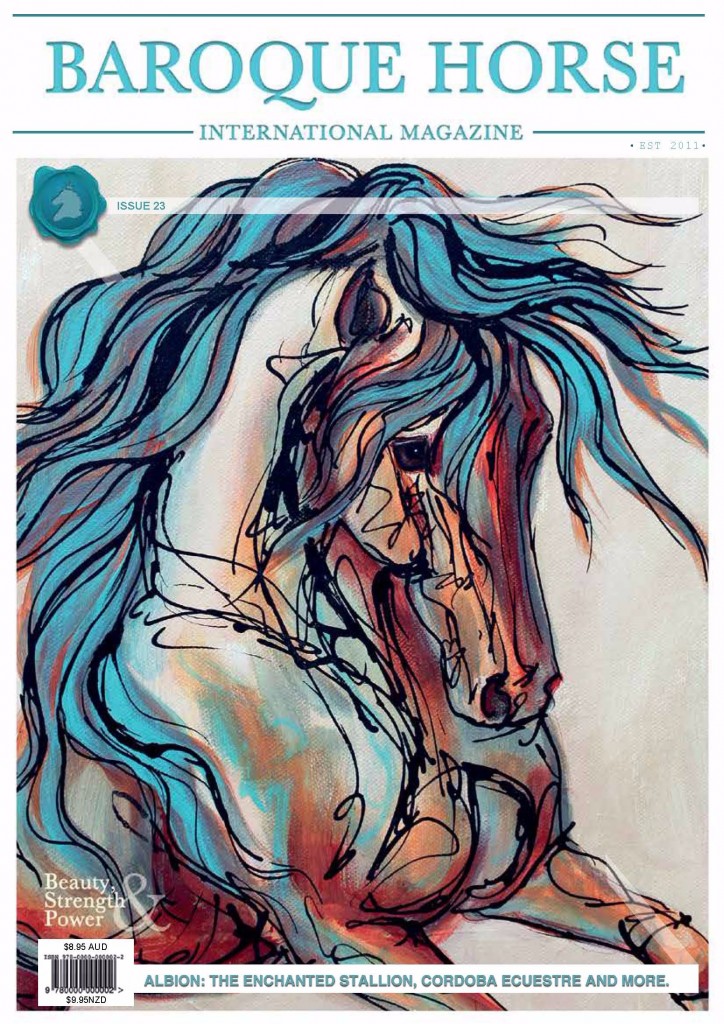 Baroque Horse Magazine Issue 23
Cover:   Artist Tricia Scheele
WHAT'S INSIDE
10.  Interview: Castille Landon – Albion (Teh Movie)
How the movie Albion came about with inspiration from the Game of Thrones.
20.  Western Dressage by Sue Weakley
Western dressage has reignited a passion in many riders who had hung up their show coast and sparked interest in many who had no desir to show.
26. Calfornia Bloodless Bullfight by Kathryn Barrett
This is the first series of bloodless bullfighting in Calfornia.  It is a hot top with a lot of stigma attached to it. This is about the tradition that is practised in Calfornia.
42.  Artist Profile:  Tricia Scheele
Tricia strives to portray the joy and freedom that horses bring into our lives and her artwork  Painting horses in motion and the fluidity of their movements with a twist of Tricia is an emotion filing image to adorn any wall.
44.  Did you know?
For the first time horses have been shown to be able to distinguish between angry and happy human facial expressions.
49:  Excellent Nutrition Produces Better Hoof Quality
A horse with poor quality hooves can be a concern for its owner.  If hoof problem becomes severe, the horse is a risk for lameness that can impact its comfort and performance.
52. The Royal Stable of Cordoba
Are home to a beautiful display in which the pure Spanish horse breed is protagonist.
60.  Johanne Christoph Von Regenthal
Was appointed to become Chief Rider by Joseph I in 1709 and he gained international renown from his students:  Emperor Charles VI , Franz Stephen von Lothringen (Roman Emperor).  He also became the tutor of prominent riding masters, such as Friedrich Wilhelm Baron Reis van Eisenberg and Baron von Sind, who spread his fame to England, Italy, Germany and France.
66.  The 9 Points of Saddle fit by Jochen Schleese
1.  Saddle Balance
2. Wither Clearance
3. Channel/Gullet Width
4. Full Panel Contact
5. Billet Alignment
6. Saddle Straightness
7. Saddle Lenght
8. Tree Angle
9. Tree Width
72.  The Way of Nature in Healing by Catherine Cox-McDowell
One of the most discussed tops in Catherine's practise is outlining  the process of healing, and what can be expect from a treatment program.
74 .  5 Handy Hints by Dr John Kohnke
1. Bandaging Your Horse's Legs
2. Avoid Feeding Protein In Excess Of Daily Requirements
3. Do Joint Supplement Reduce Risk Of Arthritis As A Horse Ages?
4.  Australian Stringhalt – A Current Warning!
5. Checking The Quality Of the Pasture.
76.  Q&A
Is Coconut Good For My Horse?
`Why Are Grey/White Horses Born Coloured?
80.  Nicki Dee's Corner
Reader's Story