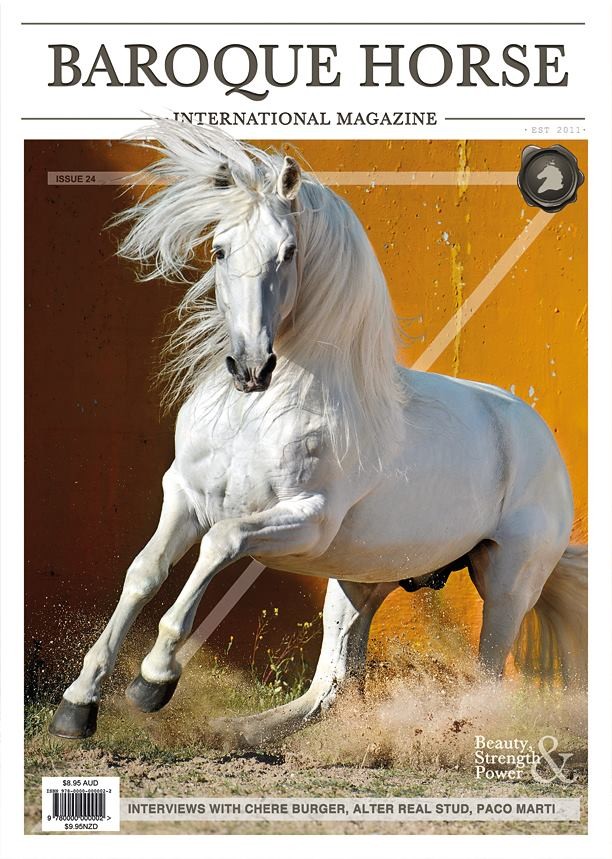 Baroque Horse Magazine Issue 24
Cover:  The Alter Real Stud
WHAT'S INSIDE
08. Chere Burger Interview
Riding Aldeprag Anders 451 (a Friesian) at the World Equestrian Games (WEG) in France, Normandy.
18.  Paco Matri Interview
When it come to colour and in particular the dilutes in the 'Pura Raza Espanol (PRE) there is one stud that has established themselves at the clear leader in this.
26. Bridleless – with Matilde Brandt
Many riders dream of being able to ride their horses with tack and Matilda talks about how to get started.
12, Arena GPS Training Exercises – by Thomas Ritter
Preparation for flying changes and canter pirouettes
40. The Alter Real Stud
The Alter Real is a strain of teh Lusitano which is bread only at the Alter Real State Stud in Portugal.
48. Discovering the Lusitano Through Photography
The Lusitano horse is, without a doubt, one of the world's most fascinating and exciting breed of horse to photograph.
56. Bloodless Bullfighting – Part II
In part II we take a look at the tradition of bloodless bullfighting in Calfornia.
62. Skin and Coat Nutrition
Improving the health and quality of the skin and coast is by far the most effective way to attract attention when showing, selling or competing.
64. Internal Parasites of Horses
All parasites live off the horse, even if it is only reducing their performance.
68. Five Keys to Competent Decision Making – by Carla Bauchmueller
If only your horse could talk – how do you know what is best for them?
72. Saddle Fitting by Jochen Schleese
Theories on saddle fitting – educate yourself on facts.`
76. A Herbalist View on Equine Diet – by Cath McDowell
Feed should be from a whole source – vitamins and minerals supplied by a broad range of whole grass (supplied in either dried hay form or fresh grasses), whole grains and trace minerals supplied by herbs, rock sale and kelp.
78.  5 Handy Hints – by Dr John Kohnke
1. Feeding The Pregnant Mare
2. Hay Types And Substitutes
3. Greasy Heel And How To Avoid It.
4. The Importance Of Dental Health For Your Horse
5. Keeping Your Horse Warm Through Winter