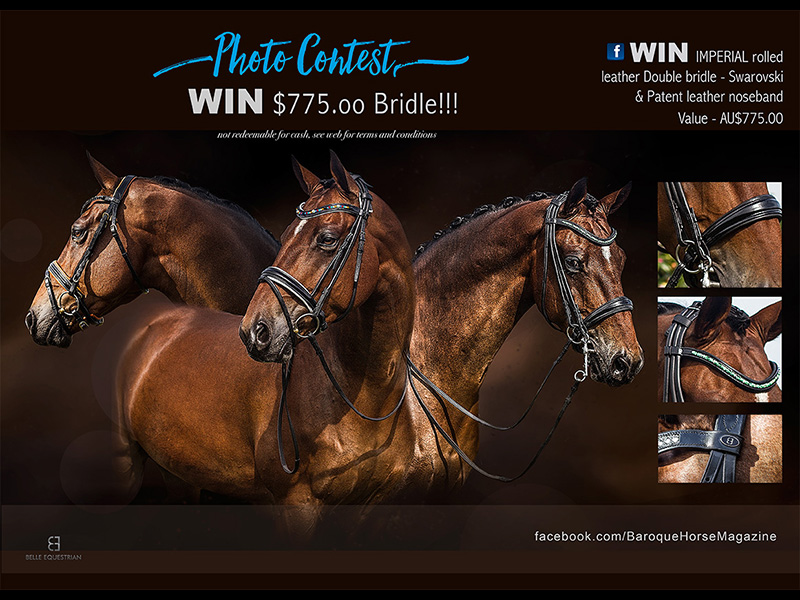 Baroque Horse Photo Competition
Baroque Horse Magazine in conjunction with Belle Equestrian are running a photo and subscribe and win competitions.
Terms and Conditions
Click Photos related to the theme and upload them into the contest

1x Winner 

Winners will be selected based on how many people vote on an uploaded photo and then Ranked by the Contest Owner.
Any breed of horse is allowed.
So get your cameras out and shoot a photo that highlights the theme.. This contest is not about clicking the best photo but about bringing out the theme and getting people to like your photo and improve your chances to win…
Get your friends to like your photo. Please make note that the winner is primarily based on Ranking by the Page Owner or the Contest Moderator. The number of votes on photo will improve your chances to be Ranked a Winner.
Maximum 3 entries per person.
Photo caption to include why you love your horse and that photo.  If not your photo, you must photo credit. eg Photo: joe blogs photography etc.
All images submitted must be the work of the individual submitting them. If the photo is by someone else you must have the photographers permission to enter it and photo credit given to them.  Entrants warrant in submitting an image, that it is their original work and does not violate or infringe (or reasonably be expected to violate or infringe) upon the legal rights of any other person, including material which is protected by copyright, trademark, or other intellectual property rights.
The prize is not redeemable for cash and for Australian residents only.
Prizes consist of  1x IMPERIAL rolled leather Double bridle – Swarovski & Patent leather noseband – Value – AU$775.00.
The Promoter of the Baroque Horse Photo Competition is Baroque Horse Magazine and Belle Equestrian. Baroque Horse magazine will not be responsible for the actual product.  Product will be supplied by Belle Equestrian.
There is no time limit as to when the image was taken.
Entries must not contain any material that is defamatory, discriminating, obscene, indecent, harassing, or threatening or is otherwise unlawful. Any entry that at the discretion of the Promoter, is deemed to be offensive, discriminatory, defamatory, obscene, indecent, harassing, or threatening, will immediately be disqualified from entering the Competition. The Promoter's decision in relation to any aspect of the Competition is final. No correspondence and/or discussion will be entered into.
Minor image adjustments (in Photoshop, Lightroom, or similar program) are allowed. This includes cropping, sharpening, changes in exposure, colour, contrast etc. and dust or blemish removal. No HDR (High Dynamic Range), multiple exposures, compositing, or major cloning is allowed. If minor image adjustments are in dispute, the decision of the judges in relation to what constitutes an acceptable minor image adjustment is final.