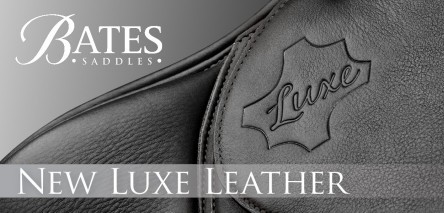 Luxe Leather
AVAILABLE IN AUSTRALIA ONLY
Experience the prestige of owning a Bates Saddle made especially for you!
For the ultimate in comfort and luxury leather, you can now upgrade your chosen double-lined Bates Saddle to Luxe Leather.
"The Bates Isabell Saddle with Luxe Leather is the pinnacle of prestige and luxury in a dressage saddle, offering the perfect dressage seat, effortless rider alignment and total comfort for your horse".Isabell Werth, Dressage Competitor 
Luxe Leather
Luxe Leather is hand-selected from the finest calf-skin leather in the world and meticulously cared for throughout its specialised tanning process. This will guarantee exceptional performance in strength, richness of colour, ultra-soft feel and level of grip to meet the unique demands of an equestrian saddle.
Leather is a natural product and as such any marks, scars or colour variations within the Luxe Leather are not a fault and add to the individual character of your new Bates Luxe Leather saddle. Your new saddle will feel exceptionally grippy, luxurious and succulent from day one, providing you with the ultimate in comfort and prestige.
"I have been riding in the Bates Isabell Saddle for more than 10 years and find the fit, comfort and performance of the saddle perfect for both my horses and I. The upgraded Luxe Leather model instantly provides an even more luxurious, moulded and secure feeling. I absolutely love it!" Hayley Beresford, Dressage Competitor
Saddles available to be upgraded
Choose to upgrade any double-lined Bates Saddle of your choice to new Luxe Leather.
The double-lined models available to be upgraded are:
You may also choose to complement your new Bates Saddle with Luxe Leather with new Bates Stirrup Leathers or Bates Leather Webbers in Luxe Leather.
Made to order, especially for you!
Experience the prestige of owning a Bates Saddle made especially for you in Luxe leather.
As these saddles are by available by special order only, you may experience a wait time of up to 12 weeks for your new saddle – it will be worth the wait!
"My saddle is one of the proudest achievements of my career. I believe we have created the perfect seat for you, and unprecedented comfort for your horse. If you choose to upgrade your Bates Isabell Saddle to Luxe Leather, you will experience unsurpassed comfort, luxury and prestige to complement the perfect dressage seat."Isabell Werth, Dressage Competitor 
Caring for new Luxe Leather
Due to the more natural properties of Luxe Leather, these saddles may require additional dressing to prevent moisture loss and to protect the leather, particularly in high areas of wear. Treated in this manner, your new saddle will achieve the traditional, rich patina of aged, worked leather and you can expect years of excellent service from your saddle.
Please read these instructions on how to care for your new Bates Saddle.
Find your local stockist
We invite you to feel the luxurious and grippy new Luxe Leather at your local stockist.
---
*Launch offer valid for saddles purchased between 1 November and 31 December 2015 from an Australian Bates Saddles stockist and not valid in conjunction with any other offer. Luxe Leather upgrade is currently only available on select models including the Bates Isabell, Bates Innova Mono , Bates Elevation range and Bates Show range by special order.