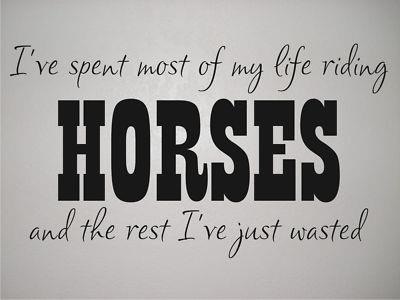 Horses bring out the best in people, and the below quotes prove that!  These are sure to bring a smile to you as they did for us.
"I have never before, in my long and eclectic career, been gifted with such an abundance of natural beauty as I experienced filming 'War Horse' on Dartmoor."
-Steven Spielberg
"No hours of life is wasted that is spent in the saddle."
-Winston Churchill
"A horse is the projection of people's dreams about themselves – strong, powerful, beautiful and it has the capabilities of give us escape from our mundane existence."
-Pam Brown
"In riding a horse we borrow freedom."
-Helen Thompson
"A horse is worth more than riches."
-A Spanish Proverb
"All I pay my psychiatrist is the cost of feed and hay, and he'll listen to me any day."
-Author Unknown

"When I bestride him, I soar, I am a hawk: he trots the air; the earth sings when he touches it; the basest horn of his hoof is more musical than the pipe of Hermes".
-William Shakespeare
"I don't like people," said Velvet. "… I only like horses."
― Enid Bagnold, National Velvet
"Horses change lives. They give out young people confidence and self-esteem. They provide peace and tranquillity to troubled souls; they give us hope."
― Toni Robinson
"I felt better mounted. God gave us horses so we could run away faster."
― Mark Lawrence, Prince of Fools
"When you take care of your horse, your horse takes care of you. You can say that about no other creature on the planet."
― Chloe Thurlow, Girl Trade
"There is a moment after riding when you stop and listen. What you hear is your heartbeat in perfect rhythm with the beat of your horse's heart. It is a moment of pure magic."
― Chloe Thurlow, Girl Trade
"Go anywhere in England where there are natural, wholesome, contented, and really nice English people; and what do you always find? That the stables are the real centre of the household."
― George Bernard Shaw, Heartbreak House
Anonymous
If you want to know about a horse's life just look into his eyes.
Heaven is on the back of a horse.
If you live a life without horses – you don't live a life at all.
A life without horses is like taking a breath without air
When people say 'it's just a horse', they just don't understand.
Horses are proof God loves us.
In life, horses are some of best friends you'll ever have.
The worst part of riding is when you dismount.
God didn't create the horse for a tool. He created it so girls could have a best friend.
Galloping – another word for flying.
My horse teaches me everything that I need to know about myself.
I don't think my horse is better than yours…. I KNOW IT!!!
You know when you are a horse person when you start clucking at people to move.
You fell off your bike, and you cried. I got thrown off my horse, and I got back on.
It doesn't take a miracle to get to cloud nine; it takes a horse!
Give a horse what he needs and he will give you his heart in return.
Horses are like potato chips… You can never have just one.
A world without horses is like a heart without a beat.
Feeling down? Saddle up!
The more I get to know men… The more I love my horse!!
People don't teach people how to ride; horses teach people how to ride.
If you think, I'm quiet… It's only because we are not talking about horses!
Horses are gods apology for men.
Horses- if God made anything more beautiful he kept it for himself