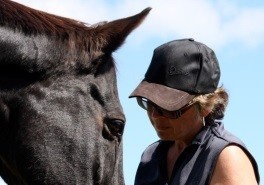 Horsesanity – Follow your true nature



Follow Your True Nature
Mindfulness through Horses and Wild Nature
8 days 7 nights    –   August 7th  to August 14th  2016
The purpose of this retreat is to provide the space for you to explore your world from a fresh perspective.
Immersed in the wildness of this ancient land you will be able to bring yourself into the present and become mindfully aware. Through the presence of the horses, you will be guided in your exploration of your true self.
This is not a luxury retreat where you will spend your time sipping cool drinks by the pool, nor is it a wilderness survival test where you are pushed and tested to your limits. Rather, it is a supportive experience where you will be able to challenge yourself and cultivate mindfulness; non-judgemental, open and curious in the present moment.
Photo by Bewley Shaylor
Yo
ur Two legged Retreat Leader
Lynn Jenkin has had a life time learning Mindfulness from her horses, but it was not until she collaborated with her partners Sandra Banister and Pam Seccombe to bringHorsanity into being that she began to share the equine experience with others. The horses bring their own skills, the same skills they have been using for thousands of years. Lynn brings her skills as a facilitator and coach developed over her corporate career, which is of slightly less duration than thousands of years (although beforeHorsanity it sometimes felt that long).
Lynn will be supported by Rachel Dillon and Andrew Kikeros of On the Verandah. Rachel and Andrew have been running retreats and outback experiences in the Kimberly for many years and are experts in combining just the right amount of activity and the space to discover yourself. Our hosts are Roderick and Alida Woodland, owners of Digger Rest, a fully functioning cattle station (and featured in the movie Australia).
Inclusions
8 days/7 nights of accommodation
Transfer from and to Kununurra Airport (or Kununurra accommodation).
All meals whilst on Diggers rest.
Transport around the station.
A one on one Mind Body Wisdom Session with the horses for each
Guided Mindfulness activities with and without the
Day trip to Wyndham with sunset champagne and nibbles atop the Five Rivers Lookout on Wyndham's prominent "Bastion" land form.
A two-hour sunset trail ride for experienced riders or a one hour lesson for inexperienced riders if desired.
Wilderness park entry
Overnight camp at a private camp site within the Cockburn Ranges with all gear and cooking provided.
Sunset champagne and nibbles under the magnificent
Extra activities such as fishing, whip cracking, bull buggy rides, hiking, croc spotting and birdwatching are included as the schedule allows or just sit on the verandah and chill out.
Exclusions
Airfares
Travel Insurance
Café Lunches "off" Diggers Rest
Alcohol (other than Sunset Champagne above).
Cancellation and Refund Policy
We are operating in a remote region and strongly recommend you consider travel insurance for any medical evacuation, loss, injury or any other expenses incurred.
If we cancel
If for any reason, we cancel the tour, we will provide a full refund via bank deposit within 7 days of cancellation. We do not provide a refund on flights. However most airlines will provide a credit for flights that are cancelled with more than 24 hours notice. We strongly recommend you take out travel insurance.
If you cancel
If you need to cancel for any reason, we will provide a full refund if you notify us more than 60 days before the commencement of the tour. If you cancel 60 days or less before the commencement of the tour, a 30% cancellation fee will be charged and the remainder will be refunded to you within 7 days of you notifying us. If you cancel within 24 hours of the commencement of the tour or fail to show, a fee equivalent to the total value of the tour will be charged.
By booking, the customer acknowledges that Horsanity and On the Verandah (the tour operators) reserve the right to alter itineraries or cancel tours due to weather, access, station priorities, insufficient numbers and safety.
We do not accept any liability or responsibility for any extra expenses or losses you incur that may result from cancellations, changes or delays in our activities.
Cost $3,995.00 per person (see early birds rates below)
Photos by Bewley Shaylor
Bookings
Bookings for our 2016 adventure is now open. 
BEFORE PAYING
Please CALL to ensure there is a place open – 0400 376 106.
RESERVE YOUR PLACE
A 50% deposit will reserve your place.
The balance is due 60 days before the start of your holiday. 
HOW TO PAY
Payment can be made by Bank Deposit 
EARLY BIRD DISCOUNTS
Early Bird Discounts are available on payments made by Bank Deposit only.
Pay in full by bank deposit before 28/02/16 and receive $200 off.
Pay 50% by bank deposit before 28/02/16 and receive $100 off.
GROUP DISCOUNTS
Group Discounts are available for groups of two or more. Call to enquire 0400 376 106.
PAY WITH BANK DEPOSIT
Forward the appropriate amount to the account below:
Maitland Mutual
Account Name Horsanity Pty Ltd BSB 646 000
Account Number 10057099
Please use your Surname as the reference. 
Please send an email to let us know you have made a deposit and you will receive a confirmation email and receipt within a day or two.
E: lynn.jenkin@horsanity.com.au
Please ensure you have read our cancellation and refund policy.