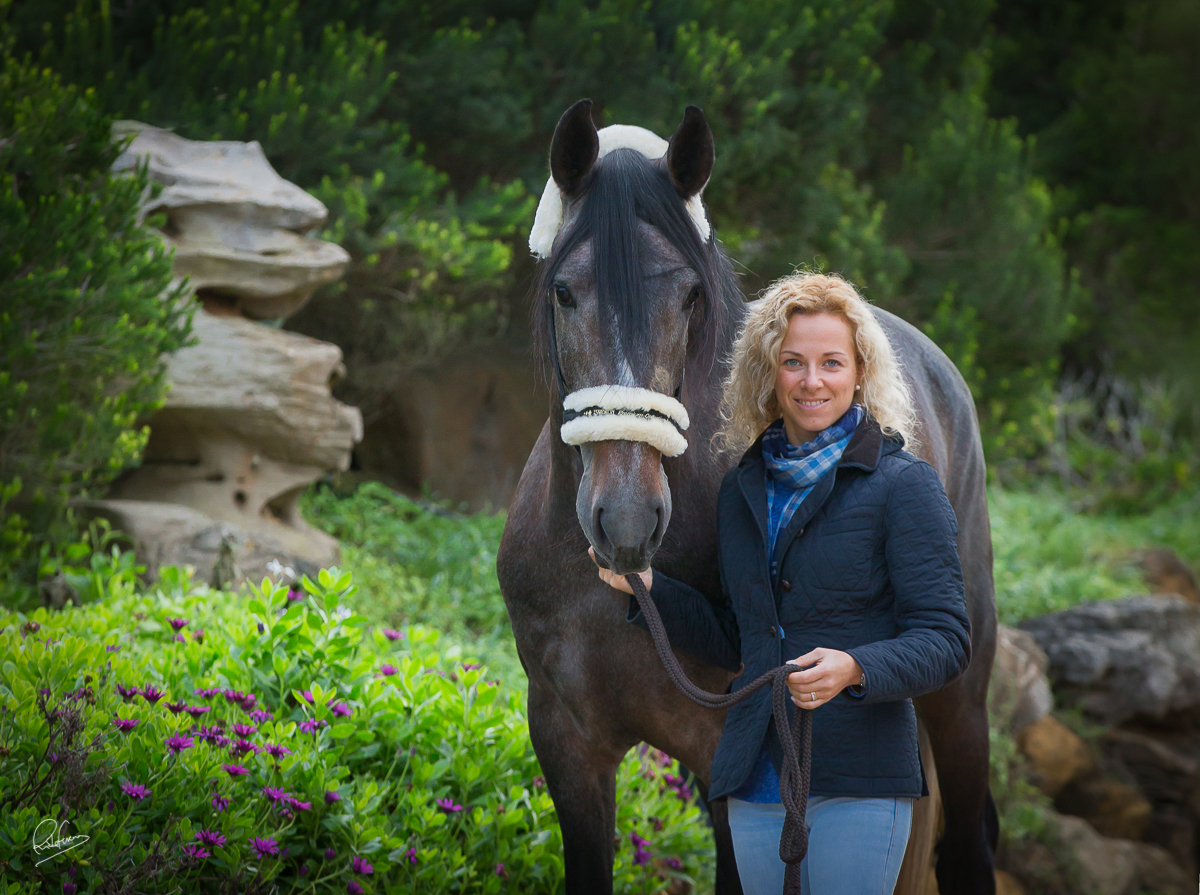 Iranico JGR – New progeny of Rubi AR strengthens PCI Team
[vc_row][vc_column][thb_banner type="effect-roxy" banner_bg="6431″][/vc_column][/vc_row][vc_row][vc_column][vc_column_text]
Photos by Rita Fernandes for Lusitano World
With the arrival of the new year new partnerships are born. «It is with great pleasure that we announce that our colt Iranico JGR (Rubi AR X Sisuda GUB) has joined the team of International Dressage rider Maria Caetano Couceiro.» says Christine Jacoberger, owner of the Olympic stallion Rubi AR. «Since he was 6 months old that Iranico astounded us with his temperament and extremely positive physical evolution.»
His dam, Sisuda GUB (Hostil JGB X Nisa GUB by Xaquiro CI) is a full sister of Ufana DR, dam of Gavião dos Cedros – another progeny of our Rubi, recently sold to Spain. Like some of other excellent horses from Team Rubi, Iranico was born at Coudelaria João Pedro Rodrigues – but he was raised in Luxembourg since he was 6 months old. He returned to Portugal at the age of 3 to debut his training with the rider Sebastião Gonzaga.
«This phase of the training is essential in the development of a sport horse» reinforces Christine. «We wanted to show our appreciation for the excellent work done by this young rider, that demonstrates already great professionalism and is gifted with a rare talent in the preparation of young horses. We thank Sebastião for his dedication that allowed Iranico JGR a great start in his sports career."
The genetic potential of this young stallion, allied to his athletic capabilities and excellent temperament – as is usual in Rubi AR's progeny – foretell that we are witnessing the birth of a new project to promote the Lusitano breed abroad.
About the choice of the new rider, the international Dressage rider Maria Caetano Couceiro, Christine adds: «We really trust in the potential of this young 4-year-old and we believe he will be a worthy representative of his genetics in the dressage arenas. Maria has already proved that she can do wonders with other progeny of our stallion Rubi AR. We have a great admiration for the results she has achieved in dressage, for her methodical and classical work and her elegant riding style. We are honored that she has shown interest in progressing Iranico JGR and we are overjoyed by this new project, another great quality collaboration within Team Rubi.»
Maria Caetano Couceiro, the current rider of Coroado AR – in the present day the best Lusitano Stallion in FEI's worldwide Dressage ranking – has already began to work Iranico, a horse in which she entrusts great hopes: «Iranico is a horse that gathers all the essential "ingredients" to become an excellent dressage horse.» says Maria Caetano Couceiro. «Besides his beauty and charm – typical in Rubi's progeny – after two days of work in our facilities, I could find that Iranico also has three very good gaits and a higher-than-average rideability. Because of this, he is a horse in which I hold greats hopes for the future, when he will join his half-brothers Coroado AR and Fenix de Tineo in our Competition Team. I also wanted to take the chance to thank Christine Jacoberger the trust that she has deposited in PCI Project and I hope to take yet another of the "great" Rubi's progeny to the international dressage arenas
[/vc_column_text][/vc_column][/vc_row][vc_row][vc_column][vc_media_grid grid_id="vc_gid:1483750304863-39da8333-4f80-3″ include="6434,6433,6432,6431,6430,6429,6428,6427″][/vc_column][/vc_row]