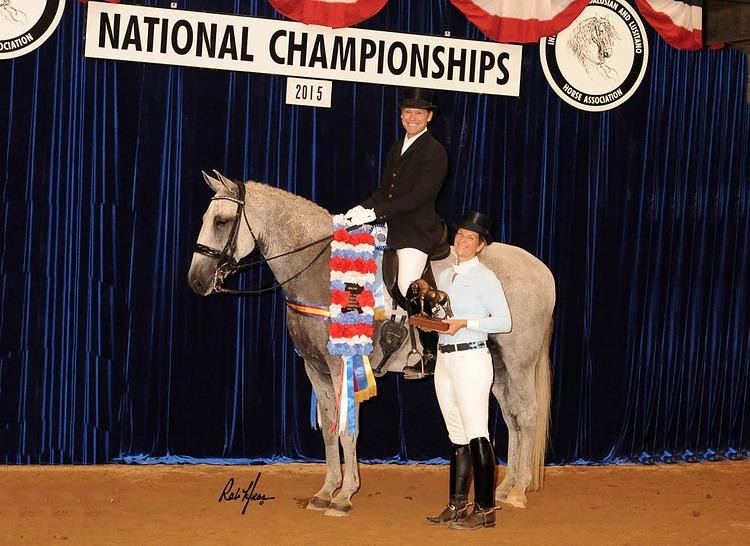 John Zopatti and Zerbino Interagro Win
John Zopatti and Zerbino Interagro Win Dressage Hack National Championship
Lexington, Virginia (September 4, 2015) — Grand Prix dressage rider John Zopatti and Zerbino Interagro, owned by Johnny Robb of Wellington, Florida, claimed an unexpected victory at the 2015 International Andalusian and Lusitano Horse Association (IALHA) National Championships on August 25-30 at the Virginia Horse Center in Lexington, Virginia. The pair entered the Dressage Open Hack class, where sixteen riders vied for the judges' attention and the championship title. It was Zopatti and Zerbino, a twelve-year-old Lusitano gelding, who claimed the 2015 IALHA National Champion Show Hack crown— in their first time entering a Hack class.
"It was quite different," Zopatti explained. "It was a coliseum with bleacher seating all the way around, and a giant judges booth set up in the middle with computers, tabulators, and announcers. The judges watched you go around and around as a group on the rail."
With no prior show preparation as a team (Zerbino was training the Grand Prix with his owner in Wellington, Florida, while Zopatti of Pinehurst, North Carolina was summering at Will Faudree's Gavilan Farm in Hoffman, NC), they took a chance in entering the class. Zopatti said it was the first time he had ever competed in a catch ride type of situation, and so he was pleased to add the National Championship title to his already impressive resume.
The USDF Gold Medalist and four-time Gold Coast Dressage Association Trainer of the Year was also successful a few days before, when he showed Robb's gelding Uwannabeme WH, a KWPN/Arabian cross, at the August 25 IALHA Virginia Open Dressage Show, also held at the Virginia Horse Center.  
Zopatti used the IALHA Virginia Open Dressage Show as an opportunity to prepare Uwannabeme WH— lovingly known as "Slim"— for the Arabian Sports Horse National Championships to be held on September 15-20. Uwannabeme and Zopatti are qualified in dressage for Second, Third, and Fourth Levels at the championships, so the pair competed at Second and Third Levels at the IALHA show.
"The Virginia Horse Center is a very similar venue to the Gov. James B. Hunt Jr. Horse Complex in Raleigh, North Carolina, which is where the Sports Horse Nationals will be held," Zopatti said. "It was great to take Slim to a venue and simulate what's going to be happening in a month. At the show there were screaming babies, screaming stallions, beautiful mares, carriages and all kinds of mayhem going on. He got an eyeful and an earful! By the last day, he was pretty well relaxed."
With Uwannabeme WH and Zerbino Interagro, Zopatti showed that he can ride a variety of horses across disciplines and emerge on top. Zopatti rode Uwannabeme to a 65.854 percent for the win in Second Level Test Three and tied with the winner to place second place in Third Level Test Three with a score of  67.949 percent. The pair seems to be well on the way to success at the Arabian Sports Horse Nationals.
"I'm not just a one trick pony," Zopatti laughed.
To learn more about John Zopatti's news, events, and sale horses, go to http://johnzopatti.com.