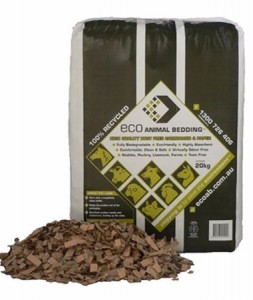 Paving the way for healthier horses
A Melbourne father and son duo are confident in knowing that the dust free and eco-friendly animal bedding they supply to some of Australia's top horse trainers and equine clinics is paving the way for healthier horses.
Eco Animal Bedding, a product of extensive research and endorsed by leading veterinarians around the nation, is a dust free animal bedding made from 100% recycled high-quality cardboard and paper.
"Dust-free animal bedding is essential when it comes to obtaining and maintaining a horse's peak respiratory health and condition," says Eco Animal Bedding Director Daniel Felice.
"The corrugated cardboard sheets and paper are processed into chips or strips and offer a healthy alternative for animal bedding. The chips are free from seeds, fungal spores and toxins and are recommended for animals with respiratory problems or horses with Chronic Obstructive Pulmonary Disease.
"It's also an excellent alternative for owners and trainers who may suffer from asthma or allergy problems themselves," says Daniel.
Eco Animal Bedding was born through the duo's previous business of document destruction, with the pair left with piles of cardboard that had no use. After researching what to do with it, they stumbled across the alternative bedding which was widely used across Europe and the US but was yet to be available in Australia.
"Today, we buy cardboard and paper waste from companies around Australia, which then goes through a machine that chops it into pieces and extracts the dust.
"One of the best parts of our business is being completely waste free; we take unwanted cardboard sheets from businesses and recycle it into our eco bedding, which is then biodegradable. Eco Animal Bedding is not only a more sustainable and economical choice, but it's also a healthier choice for horses," says Daniel.
Although small in size, the chips can hold up to three times their own weight in water, with the corrugation providing channels for fluids to flow through to the floor, allowing absorption from the bottom up; reducing ammonia levels and creating a virtually odour free environment.
As well as working alongside some of the nation's top horseracing trainers, Eco Animal Bedding's biggest advocates are leading veterinarians who use the bedding for sick and injured horses.
Eco Animal Bedding is also excellent for the treatment of skin disorders and hair loss caused by irritant elements in other bedding materials, as well as reducing the chance of infections and secondary infections after surgery.
Dr Kate Savage, former head of equine at Werribee Equine Clinic, says the eco bedding gives excellent orthopaedic support, a nonslip footing and decreases the impact of shavings, sawdust and straw dust on both equine and human respiratory systems.
Daniel says lower airway disorders are among the most common conditions encountered by equine veterinarians, with a poorly maintained and unclean stable environment a potential factor of increased risk.
The cushioning of the corrugation also forms a soft, springy bed that provides additional warmth, insulation, support and comfort.
"This type of bedding is the way of the future. It's more sustainable, better for the overall health and comfort of the animal and is more economical. We're passionate about delivering a product that is beneficial to the horses by providing them more comfort, a healthier environment and giving them the best chance of recovery," he says.
For further information on Eco Animal Bedding, please visit www.ecoab.com.au.