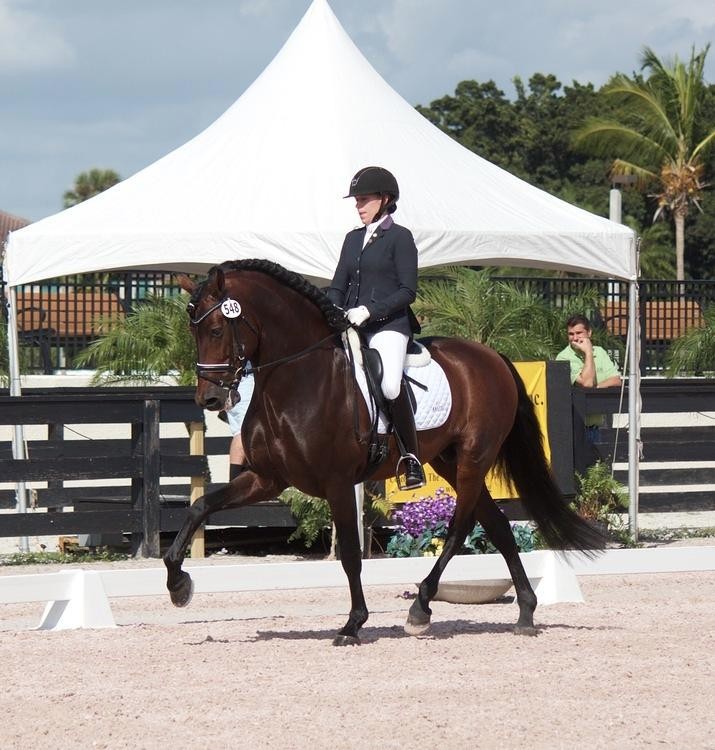 Jaime Amian and His Team Claim Multiple Victories
Jaime Amian and His Team Claim Multiple Victories at Gold Coast Fall Fling
Wellington, FL (November 16, 2015)— For international dressage rider and trainer Jaime Amian and his many clients and horses, the Gold Coast Fall Fling Dressage show, held at the Global Dressage Stadium in Wellington, Florida on November 7-8, was an immense success. Amian teamed up with his amateur clients and fellow trainer to win first place in the Gold Coast Fall Fling Team Competition. In this Team Competition, groups of four riders of various levels selected a particular class to be scored on. All team members' scores from that class were pooled together for a collective team score. Amian's training abilities for both horses and riders were proven as Amian, riding Georg, Julia Harrison Lee riding Celonika, Lauren Knopp riding Jabato, and Johnny Robb riding Zerbino Interagro accumulated a collective score of 67.223% to earn first place. Each team rider won a drink cooler for their superior scores.
Amian, based at the International Dressage Academy (IDA Farm) in Wellington, was very proud of his horse, Georg, a four-year-old KWPN gelding. Amian competed for the gelding in Training Level both days of the competition, earning a 74.0% and a 69.8%. Amian also competed Samoa 52, owned by fellow IDA Farm trainer Lauren Knopp, in the FEI Five-Year-Old division, scoring a 75.0% and a 75.6%.
In addition to competing himself, Amian had several amateur clients and teammates riding at Gold Coast Fall Fling— Dawn Sears, Knopp, Harrison Lee, Jillian Evangelista, and Robb. "I am so proud of all the amateur riders. They all did a really super job," said Amian. "All of the horses were just great. I am really happy with my horses since they have been improving and earning higher scores."
Knopp, who is also based out of IDA Farm with her own training business Lauren Knopp Dressage, won two Third Level classes aboard Amian's seven-year-old PRE Stallion, Jabato, known as "Legend." With Amian's guidance, Harrison Lee, Evangelista, and Robb achieving winning scores as well. Harrison Lee won First Level with a score of 71.0% on her Dutch mare, Celonika, while Evangelista won Third Level with 68.0% aboard Desparados, owned by Sears. Robb took the win in the Adult Amateur Grand Prix with her Lusitano gelding Zerbino Interagro.  
After such a successful weekend, Amian will ride confidently into the upcoming 2016 Adequan Global Dressage Festival this winter.
Amian began his career as a dressage rider in his home country of Spain. After competing in top-level international dressage shows around the world, Amian developed a happy riding and training business and specializes in the piaffe and passage. Amian's training is based on a philosophy of three principles: relaxation, balance, and light, soft contact. After years of traveling, competing, and gaining experience and exposure under some of the best trainers around the world, Amian decided to ground himself in Wellington at IDA Farm to continue his business. Since taking this leap, Amian has brought several clients and riders to new heights, such as amateur riders Harrison Lee, Evangelista, Robb, Knopp, and Sears.
To learn more about Jaime Amian, visit www.JaimeAmian.com or call 760-445-1657