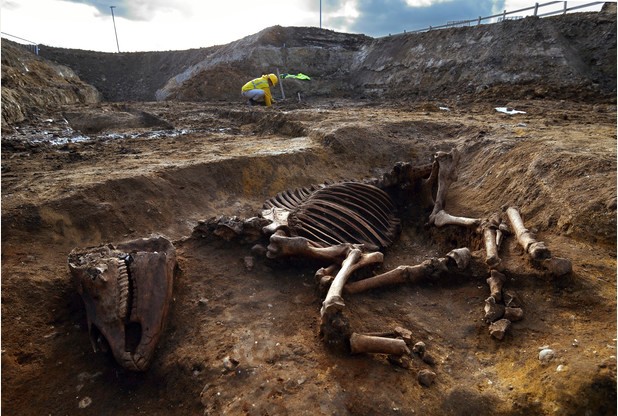 2000 Year Old Roman Horse Skeleton
CAMBRIDGE, ENGLAND—The skeleton of a horse estimated to have died 2,000 years ago has been unearthed at the construction site of a new biomedical campus.
The almost complete skeleton shows that the horse had suffered a broken leg that had begun to heal before the animal died. "It was in a pit around it which we think were dug for quarrying gravel in the Roman period. The other signs were fragments of pottery and fragments of other animals. It was probably just on the edge of a settlement, there is certainly a Roman settlement to the north of it and it's in the general area of Roman activity,"
Alison Dickens of the Cambridge Archaeology Unit told Cambridge News. She suspects that the horse died or had to be put down after a "specific incident," since it is unusual to find the intact remains of an animal.
"It is a fascinating discovery. The horse may have been just a workhorse for the quarries, which supplied construction materials for the nearby Roman settlement, or it might have been someone's prize thoroughbred; we won't know until tests are done," commented Keith McNeil, chief executive of Cambridge University Hospitals.
To read in-depth about excavations at one of the most important ancient Roman sites, see "Rome's Imperial Port."