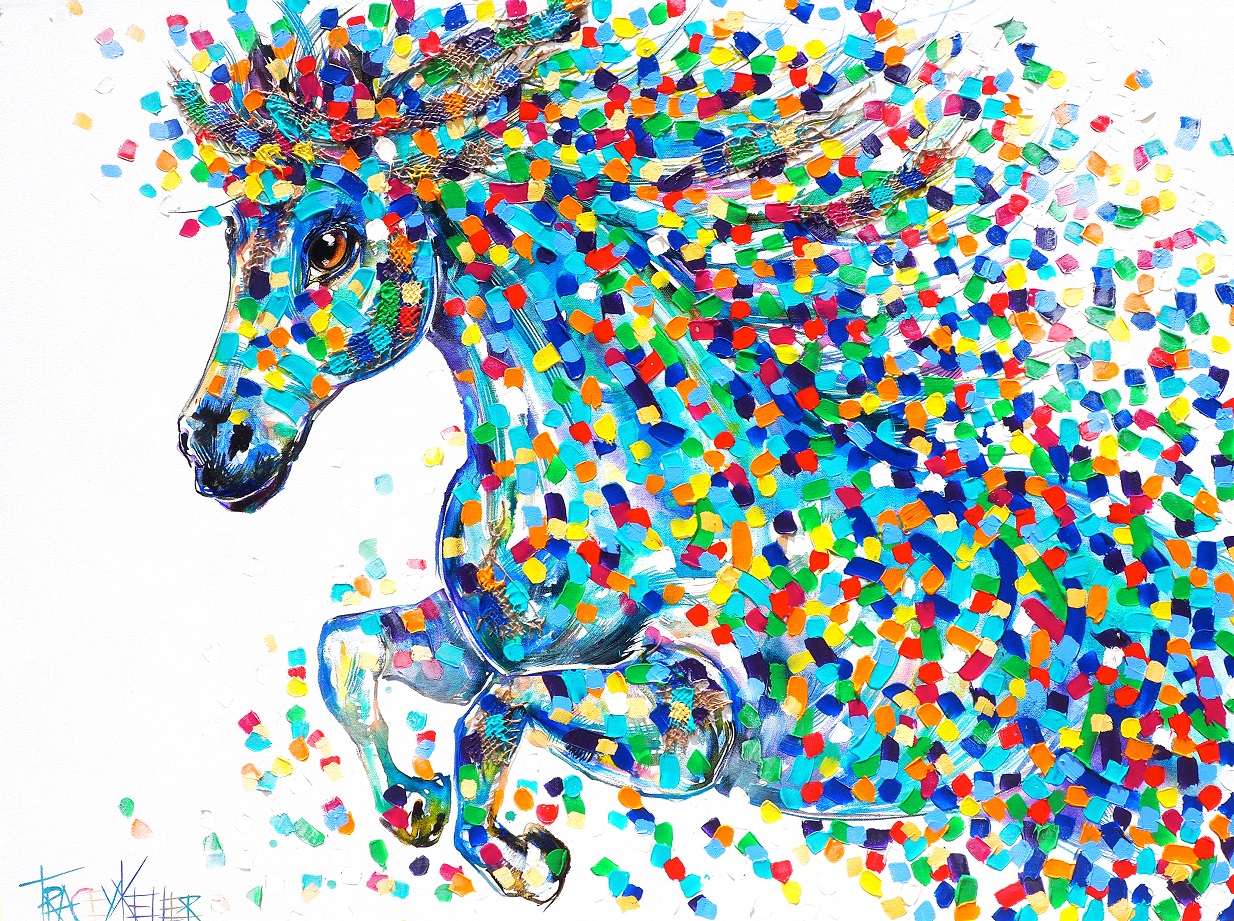 Tracey Keller is a Bright, Colourful and Joyful Artist
Tracey Keller's work is bright, fresh, playful and will bring a smile to your face and her artwork is sure to light up any room. She has a range of comic and endearing portraits of animals that will attract any age group. We came across Tracey's artwork in Eumundi (Qld) and instantly were drawn, of course, to her equine range. She captures the essence of horses beautifully but it doesn't stop there… name an animal, and I am sure Tracey has made an excellent impression of them. So, we wanted to share with you Tracey's story.
BH: Tracey we love your paintings, and they are so quirky, colourful and motivational, what was your inspiration behind this?
TK: My WHY for painting has always been to create joy. I fully believe that if I can cause the viewer to smile, this smile will ripple out to others and create a happier, more positive world – it's kind of like my little contribution to worldwide happiness. I have always had a really strong connection with all creatures great and small, so my signature style lends itself to animals.
BH: Do you paint every day?
TK: I love creating and painting so most days I do find myself in the studio. Even if I am not technically painting, I am still pushing paint around in my thoughts!
BH: What is a textured print? I have your print on a phone cover, and it has texture – how do you achieve this?
TK: My originals are highly textured. That's my signature style – heaps of thick paint and the occasional Hessian and liquid glass. I figured that my budget range of prints also needed to have the same texture, so my team and I even put the textured paints on top of the flat print. It makes each one unique and at a more affordable price.
BH: Your paintings are full of energy. Do you paint from something that has piqued your interest and is embedded in your mind or do you need a photo?

TK: A bit of both, really, for my special private commissions and pet portraits, I do require photographs of the actual pet, and I ask heaps of questions about the animal (and also the owner) so that I can capture the essence of the individual animal. On the other hand, sometimes I might just feel like painting a particular type of animal, and then I don't require an actual photograph.
BH: How long would it take you to do a portrait – a large one?
TK: 😊 Haha, that's a great question…. and it depends. I do like to allow at least a month to create a piece. And I can work on a few paintings at a time. It is also a lifetime of experience put into each piece lol!
BH: I hear you do commission work can you please give us an example of how you personalise them for your clients?

TK: Many of my private commissions are of an animal family, for instance, a family of four giraffes. The "human family" consists of Mum, Dad and two kiddies, so I colour matched the eyes of the giraffes to be similar to that of the actual humans! It gives me an opportunity to personalise the private commission, and then the owners have a good story to tell as well.
BH: We hear that you are expanding your talent to sculptures, how did this happen and
when will they be available to buy?
TK: Last year I had major surgery, where two surgeons removed my leg and then put it back together. I went through a pretty difficult time emotionally and couldn't walk for over three months, and this meant I couldn't paint. This caused a lot of fear to rise, and I was in a pretty bad space until I made the decision that this wasn't extraordinary, and I decided to create something else. Hence the idea to create some sculptures came to mind. So, over a few months, I taught myself all I needed to know on YouTube. My first bronze range is just released. Showcasing that we can all go through a lot of pain and challenge, but joy and beauty can still conquer.
BH: Your merchandise at present is phone cases, and cushion covers are you planning on expanding this range?
TK: We always update and revise our range since we only order small amounts of each image. Once it sells out, we then look at other animals to introduce 🙂 I mean, we have to ensure all animals get a chance to be seen, right?
BH: We would like to congratulate you on your long list of achievements that extend from your extensive list of Art Showings around the world, producing a children's book (A Fish with a Wish), sponsoring charities, appearing on national television, newspapers, magazine and being a guest speaker at many functions. Where to from here???
TK: My purpose is to create smiles through my art, so I guess I will always be creating new pieces with this intention 🙂 😊