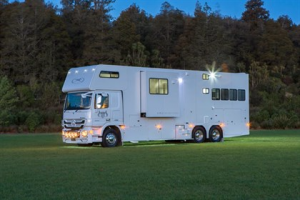 Yes, a luxury horse truck can be affordable!
A Luxury Horse Truck Can Be Affordable
When you think of the word "luxury," it's likely you automatically picture expensive, high-quality items reserved only for the financially wealthy. Perhaps the idea of luxury is equated in your mind with excess, with the inclusion of unnecessary traits and features.
Yet what luxury is truly about is comfort. And when it comes to your horses, we know that you think of their comfort and safety above all. Luxury is what your horses deserve.
A luxury horse truck is not outfitted with excessive splendour but rather is designed with the ultimate in comfort and quality for your equine friends. Not only that but with significant amenities and living spaces, many luxury horse trucks are meant for longer-term travel, so that both you and your horses are transported and housed in style and comfort. It might come as a surprise, but a luxury horse truck can be an affordable purchase for you and your family.
A Savvy Investment
A luxury horse truck can represent a significant initial investment, but the return on this investment showcases itself as a wise financial strategy. Why? Simply put, a luxury horse truck just may be the one-size-fits-all solution to your needs. With the right truck, you can house multiple horses in spacious comfort, as well as provide a cosy spot for you to stay whilst on the road. If you spend a fair amount of time travelling with your horses, a luxury horse truck is the answer. No need to insure and manage a separate automobile or caravan, and no need to spend endless dollars on hotel reservations. Your investment will go so much further when your transport needs are compacted into a single vehicle. Talk about a smart buy.
A Streamlined Process
If you're considering purchasing a horse float or horse truck, you may feel overwhelmed at the prospect of seeking finance. Exhausted by the idea of filling out endless forms, waiting for approvals, and sharing every shred of your financial details with strangers? This approach can make purchasing a luxury horse truck seem like a pipe dream that is not worth the hassle. However, there is a way you can experience a streamlined process when securing horse truck financing. There is no need to deal with large, impersonal banks or go through a vast range of confounding finance companies. You can work with a single company that talks to you in plain, relatable language and does the nitty gritty search and application work for you. That company is Australian Credit Acceptance.
Making Luxury Horse Truck Financing Affordable
Time is money, and at ACA, we can save you whole heaps of time. Fast approvals and low-doc loans are our speciality. And with more than 20 years experience working in the horse float and truck financing industry, we know the business. Whether you're seeking a new or used luxury horse truck, your options are significant. With numerous partnerships with lenders and financial providers, we'll sift through the choices and work closely with you to find the perfect finance solution. We focus on your needs, goals, and financial situation, and can identify the most affordable loan and finance options that will help you out. In this way, a luxury horse truck can end up being an affordable, stress-free purchase, and a purchase you're delighted you made.
Are you curious about owning a luxury horse truck? Our friendly team of finance experts is ready to chat with you about your unique needs. We believe you and your horses deserve the very best. Don't you agree? Contact Australian Credit Acceptance now to receive further information on our comprehensive, straightforward horse truck and horse float financing.