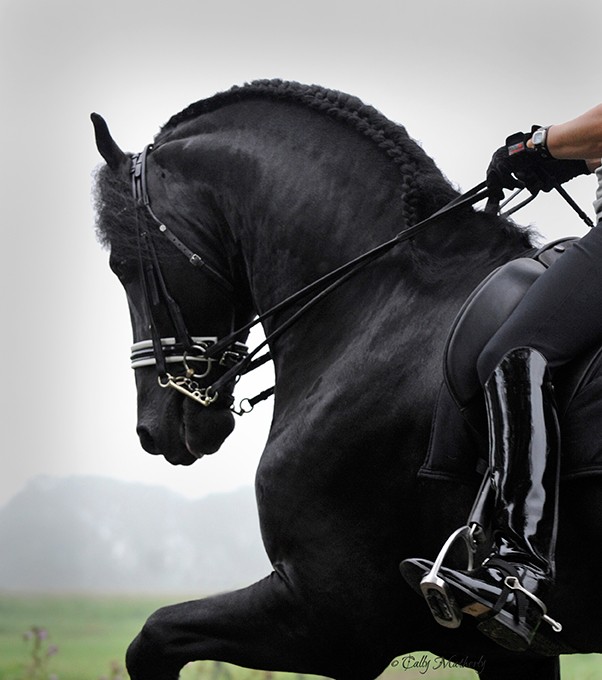 BHM Talks to Jeanne Toonen Owner of the Amazing Friesian Stallion Sake 449 Sport
BHM: How did you get into friesians? Was it a family tradition?
JT: When I met my husband 35 years ago, he was stallion owner. He had riding horse stallions, thoroughbred Haflingers and Arabs. After we were married I arrived here in the village had two friends who had Friesian horses. They had their mares to cover up and down to Friesland. There were more and more Friesian horses around here, and this is when we decided to buy a Friesian stallion. This is how we got into owning Friesians.
BHM:What is it that you love about the friesians that keeps you breeding?
JT: After owning Friesians for some time, we are now absolutely in love
with them. We love the character of the Friesian horse – so calm and cool! Friesian horses really love children and people. They think with you; they are very intelligent.
BHM: How long have you had Sake for and how did you come about to own him?
JT: Sake 449 Sport was our last purchase. We bought him because we wanted different blood in our breeding and wanted to diversify our lines. Sake fitted well into our breeding program.
BHM: Can you tell us a little about Sake's personality please? What is he like?
JT: Sake is a stallion who always wants to work and does so with much pleasure. He has a strong personality and is astonishingly sweet! When I say he has a strong personality, I mean that old soul when he knows he must do something and does the job. For example, in the morning he must cover, because obviously as stallion owners he has to earn a living for us. He knows that he should do this nicely. When we are at a show he knows that he has a job to do and that he must concentrate and forget all the mares around him. Last year there was a "hengs sighted" mare with him in the dressage court, and that mare was in season and was very showy to Sake; but Sake knew, "I'm working and must not be looking at you". So he ran his test neatly and remained quiet. When he finished his test he received huge applause from everyone who was there, and everyone said what a super stallion! This is where  accidents can happen, but Sake was so well behaved and knew what to do and when to do it! This is why I say he has a strong personality.
Sake is a schitterende stallion with a beautiful luxurious look, and he has lots of movement. If he's trotting, then he seems to be a dancer. He moves through his body. Sake is an SUPER sport horse. He is fantastic in the dressursport between the KWPN horses. In the beginning, no one would think a Friesian could win; now they say when they see Sake at the venue, "There's that damn good Fries again". We can't not win from him. Sake is already in the Sports Champion of the South, and when we visited the Netherlands in 2011 he became Dutch Open Champion. When we were at that championship, Sake pulled free from the trailer. We heard our competitors say, "Oooo, a Frieze on the loose", all worried. But
when he walked Z test he was quite different. Then it was "Oooo, Frieze" in a positive way, which is very good. He was that day also Dutch Champion in dressage. Sake is now a bright tour star. He loves the sport of dressage and is, in a word, AWESOME!
His breeding is very good. His progeny have the flexibility of their father. His oldest progeny is two this year. In that short period he has already had several champions in foals and Junior Champions. He has very good semen; we sent frozen semen all over the world and fresh semen through Europe!
We are proud of our whopper!
People who want to breed with him can contact me:
Phone 00 31 412 47 92 42 mail: hengstenhouderij@planet.nl website www.hhtoonen.nl