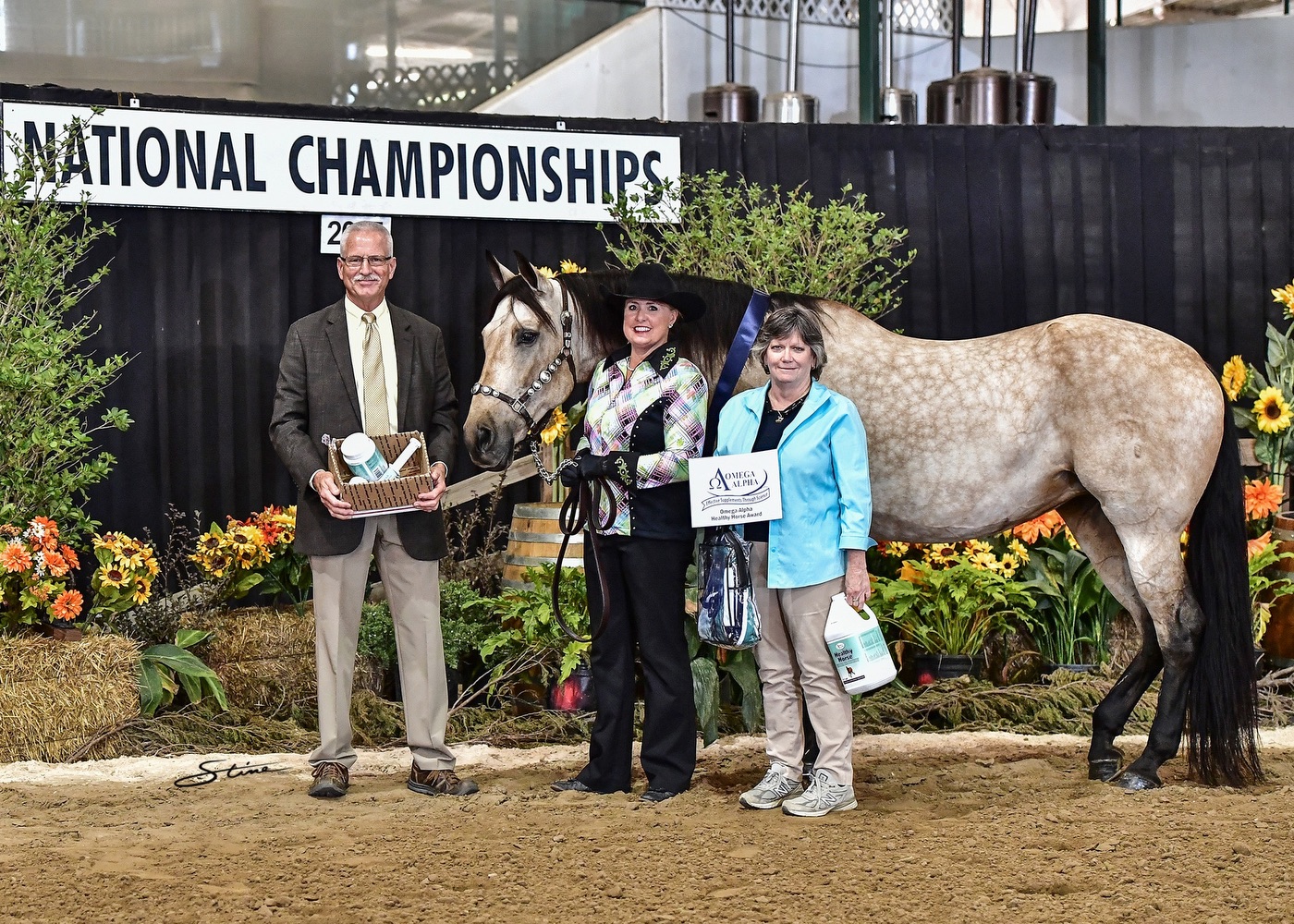 Half-Andalusian Wins Multiple Championships and The Omega Alpha Healthy Horse Award 
at the 2017 IALHA Nationals
Katy, TX (November 6, 2017) — For horse trainer Shannon Gillette and her half-Andalusian mare, Seda, a strong work ethic and the willingness to try out new things have been key factors behind the duo's consistent record of success in the show ring. Most recently, the pair has topped the scoreboards in several divisions at the 2017 International Andalusian & Lusitano Horse Association (IALHA) National Championship Show, where they were honored with the Omega Alpha Healthy Horse Award. 
Gillette, based out of her own Flat Baroque Farms in Skull Valley, Arizona,  began riding at the age of five, and was showing by the time she was ten years old. While trying her hand at competing in western, hunt seat, saddle seat, barrel racing, jumping, dressage, and three-day eventing, Gillette began competing Andalusians, and found that she loved the breed. Two decades later, Gillette has proven to be skilled in training and riding Andalusians to top honors. Her love of hard work and versatility is well-matched by Seda, her half-Andalusian mare that she has owned and trained since 2007. 
At the 2017 IALHA National Championship Show, Gillette and 15-year-old Seda (by the Andalusian stallion Genio III and out of the APHA registered mare Powderpuff Goldmine) earned five championship titles. Gillette's 12-year-old son Tyson also rode Seda to victory, winning two additional championship titles and a reserve championship. In recognition of Seda's fit and healthy appearance and outstanding performance, Seda was honored with the Omega Alpha Healthy Horse Award.
The Canadian-based all natural equine product company, Omega Alpha,  is proud to honor worthy horses performing at prestigious equestrian competitions throughout North America with their Healthy Horse Award. Because Omega Alpha is dedicated to improving horses' well being and, in turn, horses' performances, it is important to them to honor owners and trainers who make great health a top priority for their horses.
Gillette was excited to accept the Omega Alpha Healthy Horse Award for Seda. The award included an assortment of popular Omega Alpha health products, a cooler, and a commemorative ribbon. "I make more of an effort to keep my horses fit and healthy than I do myself," Gillette joked. "My horses spend a lot of time turned out in a large pasture. They also get plenty of time on the trail to supplement the time spent training in the arena. I look forward to trying the Omega Alpha products! We will be adding the supplements to Seda's feeding schedule when she starts back into work after her well-earned vacation." 
Her vacation will certainly be deserved, as Seda has been a reliable partner for Gillette's family for years. "Seda has turned into a very special horse. She has been my dressage horse, my three-day event horse, and is now transitioning to my son's show horse. She loves to work and is quickly turning into the favorite horse in the barn," Gillette said. The championship titles that Seda earned with Gillette included the half-Andalusian classes Dressage Suitablility, Western Pleasure, Huntseat Pleasure, Stockhorse Halter, and Show Hack.
Now, Seda will take a rest before transitioning to be mainly Gillette's son's competition horse. Gillette is proud of the results of the IALHA National Championships. "When Seda was presented with the Omega Healthy Horse Award, I was very proud. We worked hard to get her in shape for such a long trip and to compete in so many different classes. To be recognized as having a fit and healthy horse meant a lot to me," she said.
In addition to recognizing horses in optimum health, Omega Alpha offers an extensive line of all-natural products to help improve and maintain equine respiration, digestion, joint health, hormonal balance, immune health, detoxification, muscle rehabilitation, endurance, and performance. To learn more about the company, visit www.OmegaAlpha.ca or call 1-800-651-3172.
Photo: Shannon Gillette and Seda are presented with the Omega Alpha Healthy Horse Award at the IAHLA National Championships in Katy, Texas. (Photo courtesy Don Stine Equine Sports Photography)